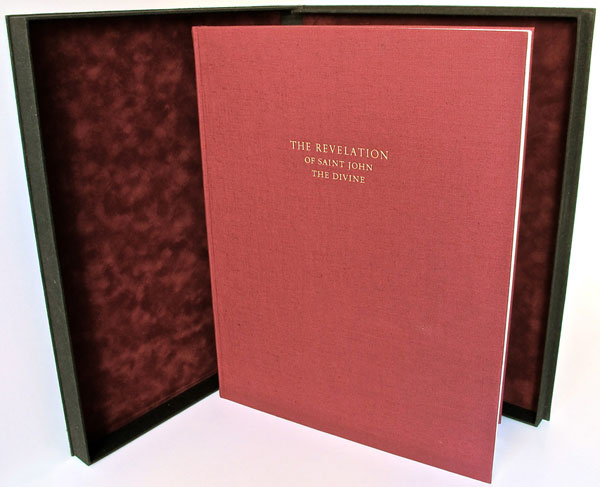 And when he had opened the fourth seal, I heard the
voice of the fourth beast say, Come and see.
     And I looked, and behold a pale horse: and his name that
sat on him was Death, and Hell followed with him. And
power was given unto them over the fourth part of the earth,
to kill with sword, and with hunger, and with death,
and with  the beasts of the earth.               
                                The Revelation of St. John VI: 7, 8
One of the most intriguing books of the Bible, this work has inspired the literary masterpieces of Dante and Milton. Now it has inspired one of America's great artists, Allan Rohan Crite, to produce fifteen relief engravings for what may be the ultimate illustrated edition.
Revelation was written at the height of Christians' persecution at the hands of the Romans. The work cries passionately against the power of evil and exhorts Christians to resist, even at the cost of martyrdom, a message that has a special resonance for an African‑American artist, such as Mr. Crite. Perhaps the most forceful of his Revelation drawings is that showing an angry Angel whirling a millstone through Baby­lon, archetypal city of sin and indulgence. Critics have acclaimed Crite's revisualization as the finest of the artist's religious works.
One Volume, 16 x 22 inches
Fifteen relief engravings by Allan Rohan Crite
Edition limited to three hundred numbered copies
Each signed by Allan Rohan Crite
Mr. Crite's relief engravings were printed on Japanese paper and mounted on heavy paper handmade in Pescia Italy. Typographical design is by Dan Carr, who drew the verse numerals and cast them by hand into punches for typesetting. The volume is hand bound in burgundy linen. The hinged box, covered in black Italian cotton, is inset with Nigerian goatskin bearing the title stamped in 22‑karat gold.  1995. $ 1,950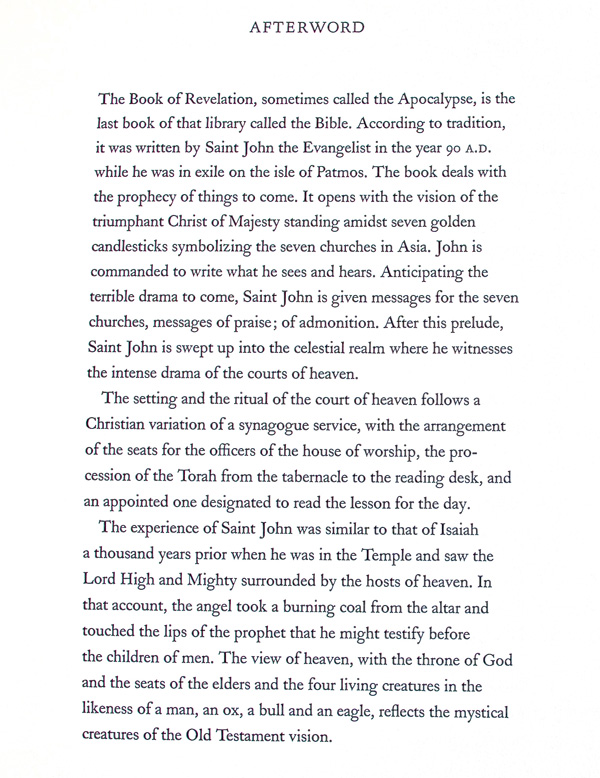 Allan Rohan Crite Engraving