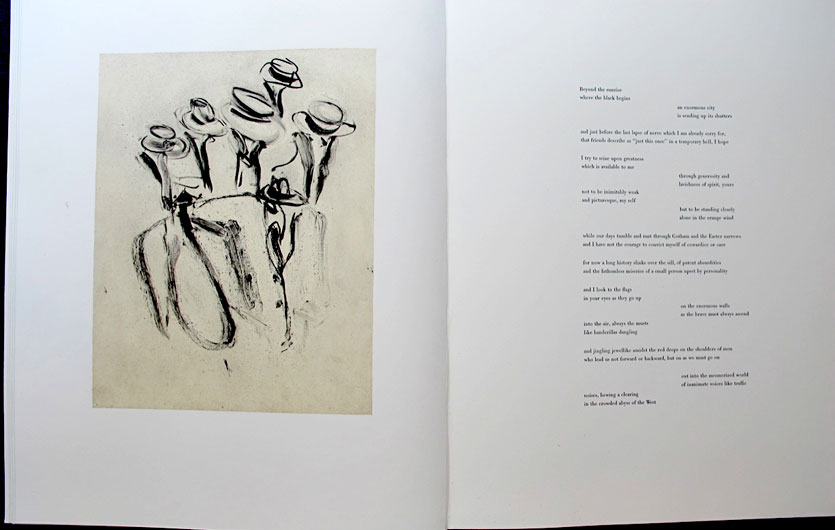 Beyond the sunrise
where black begins
                                                                   an enormous city
                                                                   is sending up its shutters
and just before the last lapse of nerve which I am already sorry for,
that friends describe as "just this once" in a temporary hell, I hope
            I try to seize upon greatness
            which is available to me . . .
Beginning of  Ode to Willem de Kooning by Frank O'Hara
"One late summer night in the Summer of 1966 the poet Frank O'Hara was run over by a beach taxi on Fire Island.  Two days later he died of his injuries. Many artists mourned the death of this special person who was so much a part of their lives, both as a stimulating man of letters and as a Curator at The Museum of Modern Art. Among the last exhibitions he directed was a retrospective of the painter Robert Motherwell, in 1965. Left undone were two extensive exhibitions of the foremost Astract Expressionist painters Jackson Pollock and O'Hara's old friend, Willem de Kooning . . . "   Beginning of Introduction to the book by Riva Castleman
The Museum of Modern Art honored Frank O'Hara with a memorial edition of his poetry illustrated by artists who knew and loved him—foremost among them, William de Kooning. De Kooning made his drawings on mylar which he then presented to the Museum.
A quarter of a century later, the mylar drawings were transferred to lithographic plates and printed under the supervision of the artist and the Museum of Modern Art solely in order to illustrate the Club's edition of those O'Hara poems that had so moved de Kooning.
Seventeen of de Kooning's eighteen charcoal drawings are reproduced here for the first time as originally intended-with their subtle strokes and wide tonal range. The thirteen poems begin with O'Hara's "Ode to Willem de Kooning."  O'Hara dashed off his poems at his office, on the street, at lunch-time.
One Volume, 17-3/4″ x 22″
Seventeen lithographs by Willem de Kooning
Edition limited to five hundred fifty numbered copies
Newsletter
De Kooning's drawings were transferred from their original mylar sheets to lithographic plates and printed on hand­-made ochre‑tinted Kitakata paper. Each print was torn by hand and pressed into the book's pages by the intaglio method. Bound in black Nigerian goatskin, the book is set in a black fabric covered and lined case. 1988. $ 4,150