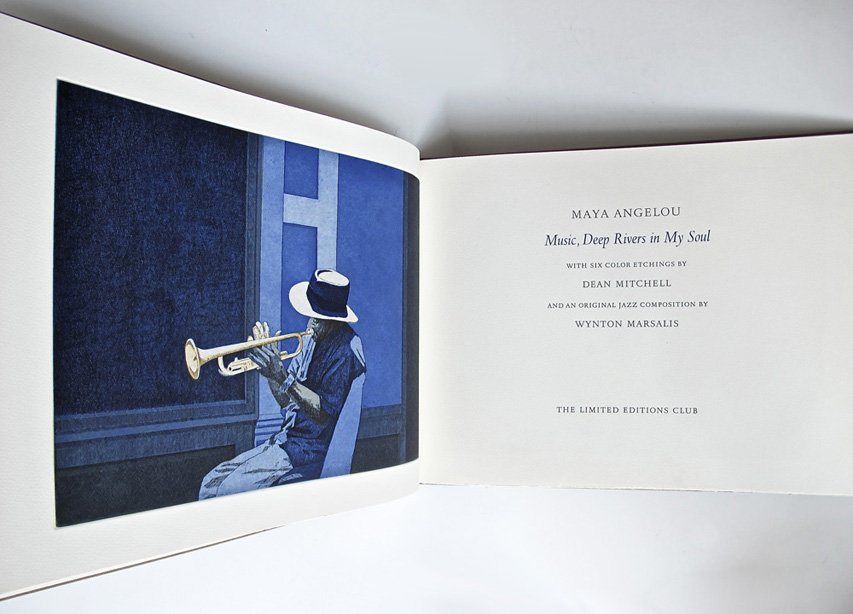 The Drums come in
On the beat of one
To lift my soul . . .
The cry of lonely
in a crowded room
midnight waiting for me
each day at noon
happiness so fickle
coming late, leaving soon . . .
–Maya Angelou
Maya Angelou's Music, Deep Rivers in My Soul is a groundbreaking event for us, a first edition that she wrote especially for our members! She also inspire the exceptional artist, Dean Mitchell, to create six glorious etchings for the book.
Even better, Maya Angelou inspired Wynton Marsalis to compose and perform with her a thirty minute CD with Dr. Angelou reading her poem.
And, inspired by Dean Mitchell, the esteemed art critic of The New York Times, Michael Kimmelman, in the April 26, 2002 edition devoted nearly the entire front page of the Arts section to a glowing review:
Mr. Mitchell's works are subtly tuned character studies with an eye toward abstract form and charismatic light. Mr. Mitchell is a virtual modern-day Vermeer of ordinary black people given dignity through the eloquence of his concentration and touch
From the art critic of New Orleans' Times-Picayune: In the world of romantic realism, it doesn't get much better than this.
One volume, 23 x 20 inches
Six colored etchings and Afterword by Dean Mitchell.
CD of Wynton Marsalis and Maya Angelou
Edition limited to four hundred numbered copies
Newsletter
Each signed by Maya Angelou, Dean Mitchell, Wynton Marsalis
Peter Petengill made the plates and editioned the prints at his Wingate Studio in New Hampshire. The books are bound by hand in beige Japanese linen that also covers the hinged and lined cases.  2003. $ 3,500