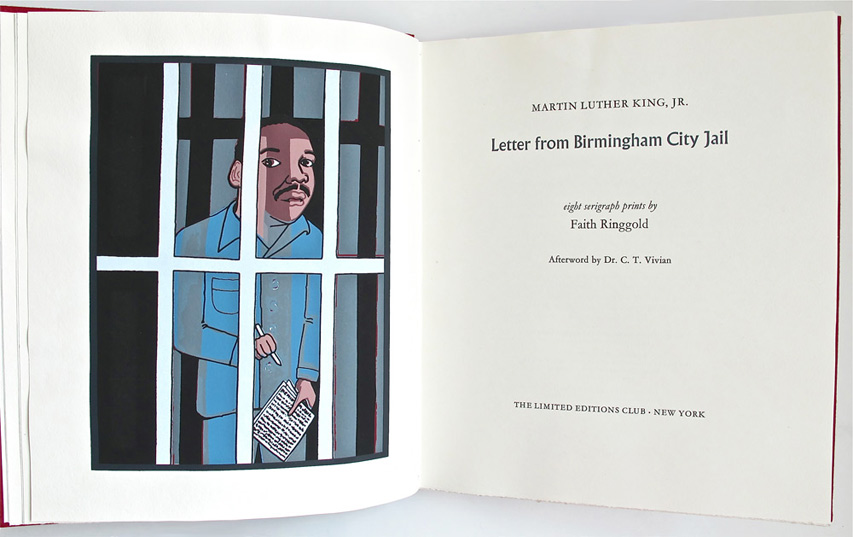 .  .  . Perhaps it is easy for those who have never felt the stinging dark of
segregation to say, "Wait." But when you have seen vicious mobs lynch your
mothers and fathers at will and drown your sisters and brothers at whim . . .
when you suddenly find your tongue twisted and your speech stammering as
you seek to explain to your six-year-old daughter why she can't go to the
public amusement park . . . and see ominous clouds of inferiority beginning to
form in her little mental sky. . . thenyou will understand why we find it very
difficult to wait . . .
I wish you had commended the Negro sit-inners and demonstrators . . .
real heroes . . . symbolized in a seventy-two-year-old woman in Montgomery,
Alabama, who rose up with a sense of dignity and with her people decided not
to ride segregated buses, and who responded with ungrammatical profundity to
one who inquired about her weariness: "My feets is tired, but my soul is at rest . . ."
Yours for the cause of Peace and Brotherhood, Martin Luther King, Jr.
Letter from Birmingham City Jail, April 16, 1963
         Letter from Birmingham City Jail, honors the hero who made our nation and our world vastly better. From the dank confines of a hell-on-earth Southern jail cell, Dr. Martin Luther King, Jr. wrote one of the most eloquent and important documents in American history.
Faith Ringgold has written a brilliant introduction and created eight magnificent serigraphs for the book and print portfolios. Dr. C. T. Vivian, one of Dr. King's dearest friends, marched and endured beside him the beatings and tragedies. He worked along with him to achieve the triumphs. Now as he dedicates his life to carrying forward Dr. King's dream, he gives us his touching and inspired Afterword.
One volume, 14-1/2 x 12-1/4 inches
Eight serigraph prints by Faith Ringgold
Edition limited to four hundred twenty numbered copies
Each signed by Faith Ringgold
Printed letterpress on handmade paper. The prints were editioned by Curlee Raven Holton at his studio in Easton, Pennsylvania. The book is hand bound in red linen, with the same fabric covering its hinged and lined case. 2008. $ 2,950